With spectacular ocean views and an easily accessible location to explore Tel Aviv's delights, the By14 is the leading prestigious hotel in Tel Aviv for discerning business and leisure travelers. A short stroll takes you to miles of golden sands next to the inviting azure waters of the Mediterranean or explore Israel's second city, the By14 hotel is the perfect starting point for a Tel Aviv vacation. Enjoy elegant designer interiors, luxury amenities, delicious breakfasts and warm, personal service. The By14 is a leading Tel Aviv seaview hotel within easy reach of the ocean and all of Tel Aviv's main attractions, offering style and tranquility whatever the reason for your stay.
Tel Aviv is a hidden jewel in the crown that is the Mediterranean coastline. Compact and accessible, this is a city brimming with culture and interest. Visitors can enjoy a Tel Aviv summer holiday combining the best urban style and seaside relaxation. Choose from various beach hotels in Tel Aviv with something on offer for every kind of holidaymaker and still within easy reach of Tel Aviv's buzzing lifestyle and world-famous night life.
Tel Aviv has a lower footfall than many Western European destinations, with the added bonus of a beautiful coastline. Visitors are spoiled with a selection of Tel Aviv seaview hotels to complement the perfect Tel Aviv summer holiday or business trip.
Discover the features and advantages of beach hotels in Tel Aviv and how to make the best choice for your visit.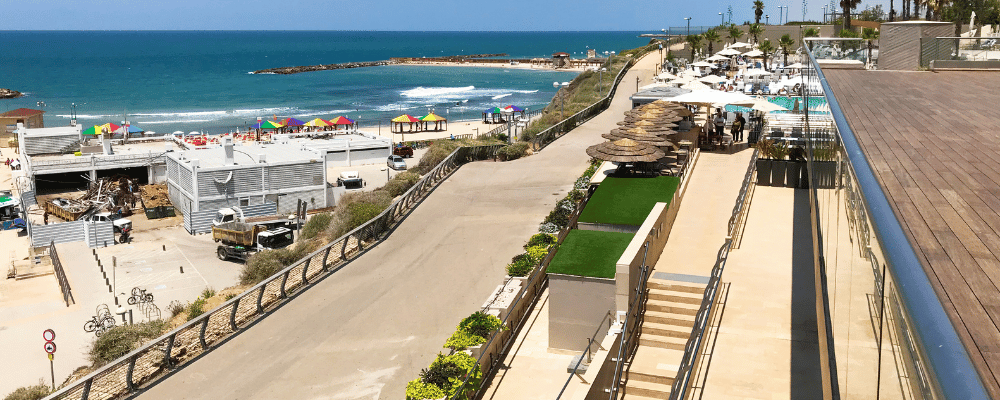 Discover the Main Features and Advantages of the Best Oceanfront Hotels in Tel Aviv
Tel Aviv summer holidays are all about the beach, but an oceanfront hotel in Tel Aviv doesn't mean choosing between city center chic and long hot days spent on miles of golden sand because you can have both. Discover the key features a beachfront hotel in Tel Aviv has to offer.
 

Enjoy spectacular views of the Mediterranean from a Tel Aviv seaview hotel with bedrooms and communal areas overlooking the ocean

 

Indulge in beach sports, surf and swim or relax on the sand with nothing more strenuous than deciding what to drink and which book to read

 

Some oceanfront hotels in Tel Aviv offer guests a private beach

 

Breakfast and dine oceanside, beach hotels in Tel Aviv offer a range of international menus, Kosher cuisine and local Israeli dishes alongside a view to die for, a feast for the palate as well as the soul

 

Most Tel Aviv beach hotels have a gym and other amenities like a sauna to get beach ready, but if that sounds like too much effort, pamper the body and rejuvenate the mind with a variety of relaxing spa treatments

 

Oceanfront hotels in Tel Aviv offer easy access to the city center, where visitors can enjoy high-end retail with everything from international designers to local artisan boutiques

 

It's just a short hop from your Tel Aviv beach hotel to all the culture and history of this fascinating city, with lots of museums and internationally acclaimed art galleries
What to Look for in the Perfect Tel Aviv Oceanfront Hotel
Because of Tel Aviv's coastal location – the city was founded on Jaffa, believed to be the oldest port in the world – visitors planning a Tel Aviv summer holiday don't have to choose between a city or seaside vacation – you can have both!
 

Planning a romantic getaway? Choose an oceanfront hotel with private beach access

 

A Tel Aviv seaview hotel, the clue's in the name, but bear in mind that accommodation fronting the ocean is often top dollar, and you'll pay more for a suite with a private balcony. If you've had your fill of the sea during the day, then a more economical city-view apartment could offer the perfect contrast

 

If you plan to enjoy the restaurants and cafes beachside or dine out in the city, then a hotel restaurant may not be the top priority

 

Some people like looking at the sea rather than being in it, so pick a Tel Aviv hotel with a rooftop pool. Many have luxury sundecks so you can enjoy the view of the Mediterranean and the gentle ocean breezes poolside

     

Find out if your hotel offers complementary bikes for guests; this is a quick and easy way to reach all parts of the city

 

If pamper sessions and wellness are on your holiday list, check out the spa facilities. Remember, you'll need to book well in advance during busy periods
Focusing on your top holiday priorities makes it easy to narrow down the choice of beachfront hotel for your vacation or business trip.
An oceanside hotel is ideal for making the most of this beautiful coastal city and its stunning shoreline setting. Save time comparing prices and amenities and just head straight for the By14 hotel, the perfect fusion of urban chic and seaside views with elegant, stylish interiors and a peaceful, tranquil ambience. Designed for short and long-stay travelers, make a reservation today, whatever the reason for your visit to Tel Aviv.
Frequently Asked Questions
Do Tel Aviv oceanside hotels all offer beach amenities?
Most do, but look out for a hotel that provides sun loungers, umbrellas and beach towels.
I'm traveling with young children. What family-friendly amenities should I look for in my Tel Aviv beachside hotel?
Choose a hotel that welcomes young children. Look out for a kids' club, playground, child-friendly dining options and even a playground. Some hotels provide beach toys and games too.
What's unique about Rothschild Boulevard?
Rothschild Boulevard is the place to see and be seen in central Tel Aviv. Lined with Bauhaus-style buildings, it is a fascinating architectural journey, and plenty of stylish cafes and restaurants offer refreshments along the way.
What activities are available on the beach?
Swim, stroll or relax with ten miles of glorious Mediterranean coastline. There are also a variety of beach activities like matkot and specific events throughout the summer on designated beaches.
More Articles: