Conveniently situated at 14 Ben Yehuda Street, BY14 Hotel is not just an ideal starting point for your museum adventures, but it also places you close to the beautiful beachfront, top-notch restaurants, and unique dining spots. In this article, let's dive into the best museums in Tel Aviv that are waiting for you to explore during your stay at BY14 Hotel.
Tel Aviv is celebrated as Israel's cultural heart, providing an array of museums for those keen to immerse themselves in the nation's fascinating history and vibrant heritage. If you're visiting this lively city, immersing yourself in its museum scene is a must, and there's no better place to stay than BY14 Hotel. 
Eretz Israel Museum
Exploring Israel's extensive history is a journey best begun at the Eretz Israel Museum. This museum helps you understand how Israel has changed from olden times to today. Everything is neatly arranged in sections, including old artifacts, stories, Jewish art, and Islamic art. Don't forget to check out the outdoor area with beautiful sculptures from famous Israeli artists.
Tel Aviv Museum of Art
Art enthusiasts, take note: the Tel Aviv Museum of Art is a must-visit destination. The museum features an extensive and varied assortment of art, predominantly concentrating on contemporary and modern styles. With a continuous lineup of exciting events and exhibitions, it's highly recommended to take a glance at the museum's calendar to stay in the loop and catch any fascinating happenings.
Palmach Museum
Embark on a journey through the gripping history of the Palmach, the distinguished elite unit of the Haganah, at the Palmach Museum. This interactive and immersive space allows you to step into the shoes of a Palmach fighter, offering a personal and touching insight into the establishment of Israel. The museum thoughtfully curates its exhibits to narrate the story from the perspective of its founders, ensuring a deep and touching experience. A visit here promises to be powerful and memorable, leaving a lasting imprint of Israel's rich history on your heart.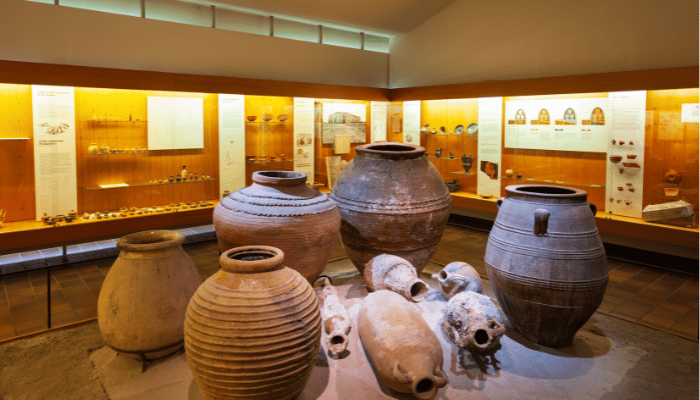 Tips For Enjoying The Best Museums in Tel Aviv
Plan Ahead:

Before your visit, research the museums you want to visit and their opening hours. Some museums may require advance booking, especially during peak tourist season.

Use Public Transportation

: Tel Aviv has an efficient public transportation system that can take you to most museums.

Guided Tours:

Many museums offer guided tours, which can provide a more in-depth understanding of the exhibits. Check if these are available when planning your visit.

Dress Comfortably:

Museums can involve a lot of walking, so wear comfortable shoes and clothing.

Stay Hydrated and Eat Well:

There are numerous cafés and restaurants near most museums where you can grab a bite to eat and stay hydrated.

Respect Museum Rules:

Always follow the rules regarding photography, food and drink, and exhibit interactions.

Visit the Museum Shops:

Museum shops often offer unique and interesting souvenirs related to the museum's theme or exhibitions.
Conclusion
Opting for BY14 Hotel as your accommodations in Tel Aviv provides the perfect starting point for delving into the city's impressive array of museums. This comfortable and well-appointed hotel positions you right where you need to be to immerse yourself in Tel Aviv's vibrant history, stunning art, and complex political scene.
By visiting Eretz Israel Museum, Tel Aviv Museum of Art and the Palmach Museum, you can gain a deep understanding of the country and its rich cultural background. After visiting the best museums in Tel Aviv, you are sure to leave Tel Aviv feeling enriched and inspired.
Frequently Asked Questions
Are there any museums in Tel Aviv that focus specifically on the city's history and development?
Certainly! The Eretz Israel Museum in Tel Aviv is a goldmine of information and artifacts, eloquently presenting the city's rich history, lively culture, and its developmental journey.
Do Tel Aviv museums host temporary exhibitions, and if so, how can visitors stay updated on current and upcoming displays?
Yes, many museums in Tel Aviv frequently host temporary exhibitions covering a wide range of topics. To keep with current and upcoming exhibits, visitors are encouraged to visit the official websites of the museums, sign up for newsletters, or follow them on social media channels.
Is there a place in Tel Aviv where I can dive into the city's architectural history and urban growth?
Absolutely! The Eretz Israel Museum in Tel Aviv is a fantastic spot that presents a variety of exhibits detailing the city's journey in terms of architecture and urban planning.