If you're a lover of street art, Tel Aviv should definitely be on your bucket list. Tel Aviv has this lively street art vibe that pulls in artists from all over. It's not just about cool designs; the graffiti here tells stories of the city's rich history and culture. So, when you're walking around, it's like you're getting a colorful peek into Tel Aviv's soul. In this article, we will guide you through a Tel Aviv graffiti tour, with BY14 Hotel serving as your starting point, showcasing the best of what the city's street art scene has to offer.
Diving into the Unique Aspects of Tel Aviv Graffiti Tour
Tel Aviv's street art isn't just colorful designs on walls; it's a window into the city's heart, sharing tales of its culture, history, and pressing issues like the Israel-Palestine conflict, urban transformation, and environmental concerns. And the artists? They're not just doodlers; they're storytellers with impressive talent, pouring life, vibrancy, and details into every piece. So, whether you're a local or just dropping by, Tel Aviv's graffiti scene is something you've got to experience.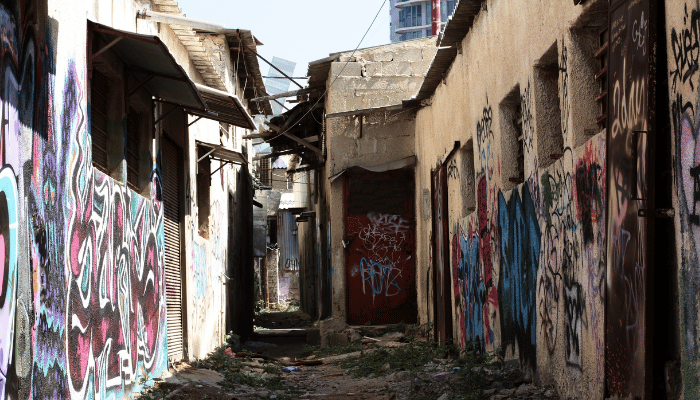 Noteworthy Graffiti Spots in Tel Aviv
With so many incredible pieces of street art in Tel Aviv, it can be difficult to know where to start. Here are just a few noteworthy spots that you can explore during your Tel Aviv graffiti tour:
Florentin Neighborhood:

This neighborhood is arguably the epicenter of Tel Aviv's street art scene with its countless murals and graffiti pieces.

Nahalat Binyamin Pedestrian Mall

: This artistic hub features street art that reflects the city's diverse cultural and social fabric.

Great Synagogue on Allenby Street:

This historic spot is home to some thought-provoking pieces.

Shenkin Street:

This trendy street boasts a multitude of graffiti art, making it a visual delight for visitors.

Carmel Market:

Apart from being a lively bazaar, it also features vibrant street art on its surrounding walls.

Jaffa:

This age-old harbor city is celebrated for its impressive display of street art, visible at practically every turn. Jaffa also boasts a variety of galleries and workshops for artists, providing a unique opportunity to appreciate the artwork amidst the vibrant local art scene. 

HaTachana:

This former railway station has been transformed into a cultural center and outdoor shopping area, complete with stunning murals and street art.
Practical Advice for Your Tel Aviv Graffiti Tour
Before you set off on your graffiti tour, here are a few tips to keep in mind:
Book in Advance:

Graffiti tours are popular in Tel Aviv, so ensure to book in advance to secure your spot.

Comfortable Footwear:

Given that tours usually involve a reasonable amount of walking, wear comfortable shoes for a better experience.

Camera Ready

: There's plenty to see, so make sure you have a fully charged camera or phone to capture the art.

Respect the Art:

Remember this is more than just art; it's an expression of culture and history. Please do not touch or mark the graffiti.

Open Mind:

Some art pieces can be politically charged or thought-provoking. Keep an open mind to fully appreciate the perspectives.

Local Guides:

If possible, choose a tour with a local guide who is familiar with the artists and stories behind the art.

Sun Protection:

Tel Aviv can be hot, so bring sunscreen, a hat, and water to protect yourself from the sun.

Time Management:

As there is much to see, try not to rush through the sites.

Use navigational tools:

While exploring the streets of Tel Aviv, it can be easy to get lost. Consider using a navigation app or map to help you find your way.
Conclusion
Exploring Tel Aviv's graffiti scene is a real treat, and hopping on a graffiti tour is the perfect way to dive right in. You'll get more than just a look at cool art – you'll hear the stories behind them, feel the city's heartbeat, and leave with memories and insights that'll stick with you.
Plan your visit to Tel Aviv today and book your stay at BY14 Hotel to experience the vibrant street art culture of the city. So, make sure to add a graffiti tour in Tel Aviv to your bucket list and get ready for an adventure like no other!
Frequently Asked Questions
How do local authorities in Tel Aviv handle graffiti and street art?
Local authorities in Tel Aviv have adopted a relatively lenient approach towards graffiti and street art, recognizing it as a form of urban expression and art. Some areas of the city even feature commissioned street art, but unauthorized graffiti may still be subject to removal or fines, depending on the content and location.
Are there any famous local graffiti artists in Tel Aviv?
Yes, Tel Aviv is home to several well-known graffiti artists. One of the most famous is Dede Bandaid, who is recognized for his distinctive band-aid and urban wildlife motifs.
Does graffiti in Tel Aviv tend to carry specific themes or messages?
Yes, graffiti in Tel Aviv often carries specific themes or messages, reflecting social, political, and cultural commentary. Artists use this form of expression to address issues such as peace, identity, and social justice, or simply to add beauty and provoke thought in urban spaces.