Tel Aviv, a city of vibrant contrasts, seamlessly merges ancient tradition with modern innovation. From bustling street markets to upscale boutiques, it offers a diverse shopping scene that caters to both traditionalists and trendsetters alike. Whether you're an art lover, antique collector, or fashion enthusiast, Tel Aviv has something for everyone. Join us as we explore the best shopping experience in Tel Aviv and provide practical tips to maximize your shopping sprees.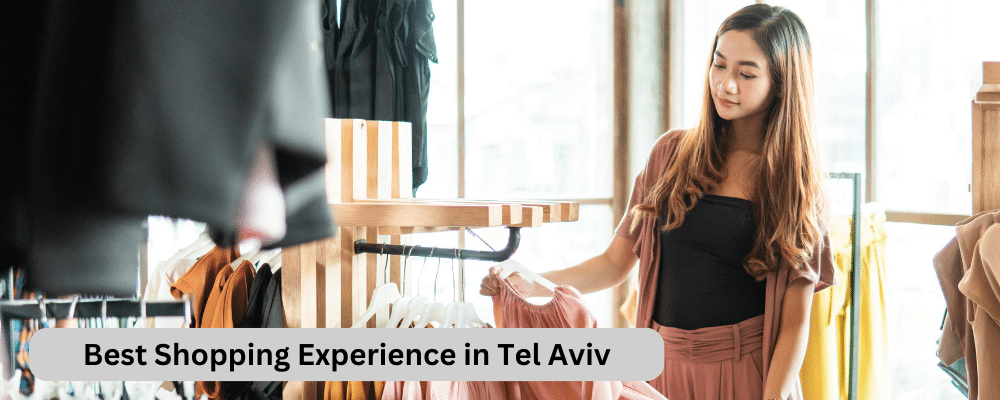 The Shopping Pulse of the City- Diverse Offerings
Tel Aviv's shopping scene is as diverse as the city itself. The city has a plethora of shopping options catering to all styles and budgets:
Carmel Market (Shuk Ha'Carmel):

One of the largest markets in Tel Aviv, offering a wide range of products from fresh produce, spices, and baked goods, to clothing and household items. The market is vibrant, colorful, and full of energy, making it a must-visit for any shopping enthusiast.

Shenkin Street: Renowned for its bohemian culture, Shenkin Street is the perfect place for fashionistas. It is lined with boutique fashion stores, unique jewelry shops, and chic homeware outlets.
Jaffa Flea Market (Shuk Hapishpeshim):

A treasure trove for antique lovers and bargain hunters. From vintage furniture and antique jewelry to unique collectibles, you can find almost anything here.

Dizengoff Center:

One of Tel Aviv's major shopping malls, housing a wide variety of local and international retail stores, cafes, and a weekly food market.

Neve Tzedek Boutiques:

A charming neighborhood dotted with boutiques selling designer clothing, hand-made jewelry, and unique arts and crafts. A perfect mix of upscale and artistic shopping experience.

Sarona Market:

Sarona Market offers a delightful blend of gourmet food stops, chic dining spots, and those cute little boutiques you just can't resist wandering into. It's not just a shopping destination, but a place to savor, dine, and discover.
Flea Markets and Street Bazaars
If you're looking for a more authentic and unique shopping experience, Tel Aviv's street markets are a must-visit:
Nachlat Binyamin Arts and Crafts Fair:

This vibrant market, held twice a week, is the place to find the work of local artisans. From handcrafted jewelry to unique ceramics and textiles, you'll find plenty of unique souvenirs and gifts here.

Levinsky Market:

Known for its spices, dried fruits, and nuts, Levinsky Market is a paradise for food lovers. It's not just a food market, though—browse the surrounding streets for a mix of antique stores and trendy boutiques.

Jaffa's Night Market:

During the summer months, the Jaffa Flea Market transforms into a lively night market. The streets come alive with music, food stalls, and shops staying open late. It's a fantastic place to soak up the atmosphere and pick up some unique finds.

HaTikva Market:

A more local market, HaTikva offers a wide array of fresh produce, meats, cheeses, and baked goods. Less touristy than other markets, it offers an authentic glimpse into daily life in Tel Aviv. 

Port Market: Located by the sea, the Port Market is a modern, covered market that offers a wide variety of food stalls and shops. From fresh fish to artisanal cheeses and handcrafted goods, it's a great place to explore and dine.
Savvy Tips For The Best Shopping Experience in Tel Aviv
To make the most out of your shopping sprees in Tel Aviv, here are some practical tips that will come in handy:
Carry Cash

: While most larger stores and boutiques accept credit cards, many smaller shops and street vendors prefer dealing in cash.

Check Opening Times

: Many shops in Tel Aviv close on Friday afternoon and don't reopen until Saturday night or Sunday morning due to Shabbat. Also, some markets like Nachlat Binyamin Arts and Crafts Fair take place only on specific days.

Stay Hydrated:

Tel Aviv can get quite hot, particularly in the summer months. Always carry a bottle of water with you while shopping.

Wear Comfortable Shoes:

With so many markets and shopping districts to explore, you'll be doing a lot of walking.

Explore Side Streets:

Often, the best finds in Tel Aviv are tucked away in side streets off the main shopping thoroughfares. Don't be afraid to venture off the beaten path.

Be Mindful of Kosher Rules:

If you're shopping for food, remember that many food establishments follow kosher rules, meaning there may be restrictions on certain foods or combinations of foods.

Shop Local:

Support local artisans by purchasing unique, handmade goods. These items often have a story behind them and make for great souvenirs or gifts.

Learn some essential Hebrew:

Even though many locals in Tel Aviv can speak English, it's always useful to learn a few basic phrases in Hebrew. Here are some helpful words and phrases that will come in handy while shopping: 
Hello – Shalom 
Please – Bevakasha 
Thank you – Todah
How much is it? – Kama zeh? 
Yes/No – Ken/Lo 
I don't understand Hebrew- Ani lo mevina ivrit
Conclusion
Tel Aviv is truly a shopper's dreamland, weaving together the charm of bygone days with today's trends. The city's lively shopping streets promise something for everyone, be it high-end fashion, one-of-a-kind keepsakes, or those nostalgic vintage treasures. Simply put, Tel Aviv is ready to surprise every shopper who wanders its alleys. To have the best shopping experience in Tel Aviv, it's best to use a central location as your base. BY14 TLV Hotel is the perfect starting point to explore the city's best shopping experiences. So, what are you waiting for? Get your wallet ready and start exploring the shopping delights of Tel Aviv!
Frequently Asked Questions
What traditional Tel Aviv dish is a must-try for first-time visitors?
For first-time visitors to Tel Aviv, trying Shakshuka is a must. It's a traditional dish made of poached eggs in a spicy tomato, chili pepper, and onion sauce, often flavored with cumin and served with bread on the side.
What's the best street food in Tel Aviv?
The best street food in Tel Aviv is arguably the falafel. These deep-fried chickpea balls, often stuffed in pita bread and accompanied by salads and tahini, are beloved by both locals and visitors alike.
Where can visitors find traditional Israeli crafts and souvenirs?
Visitors can find traditional Israeli crafts and souvenirs at the Carmel Market, the Nahalat Binyamin Arts and Crafts Fair, and various boutique shops scattered throughout the Neve Tzedek neighborhood in Tel Aviv. These places offer a range of items from handmade jewelry to ceramics and textiles.
Are there any major shopping malls or centers recommended for visitors?
Yes, in Tel Aviv, the Dizengoff Center and Azrieli Center are among the major shopping malls that are popular with both locals and visitors, offering a mix of international and local brands, as well as dining and entertainment options.