Ready for a night out in Tel Aviv's gay community? Great! We've put together a list of the best gay bars in Tel Aviv to help you map out your next adventure.
Tel Aviv is a beacon for the LGBTQ+ community in the Middle East. Known for its inclusivity and diversity, the city attracts visitors worldwide, eager to dive into its lively nightlife and rich culture. The city's thriving gay scene is packed with bars, clubs, and venues, all warmly welcoming the LGBTQ+ community.
Among the many LGBTQ+ friendly spots in Tel Aviv, the BY14 Hotel is a shining example of warm and inclusive hospitality. Nestled in the city's heart, this hotel guarantees a cozy and stylish stay, echoing Tel Aviv's vibrant LGBTQ+ atmosphere. The BY14 Hotel is proud of its warm ambiance and contemporary design, making it a top pick for LGBTQ+ travelers. Its close proximity to the city center and renowned gay bars guarantees guests a full immersion into Tel Aviv's rich cultural and nightlife scenes.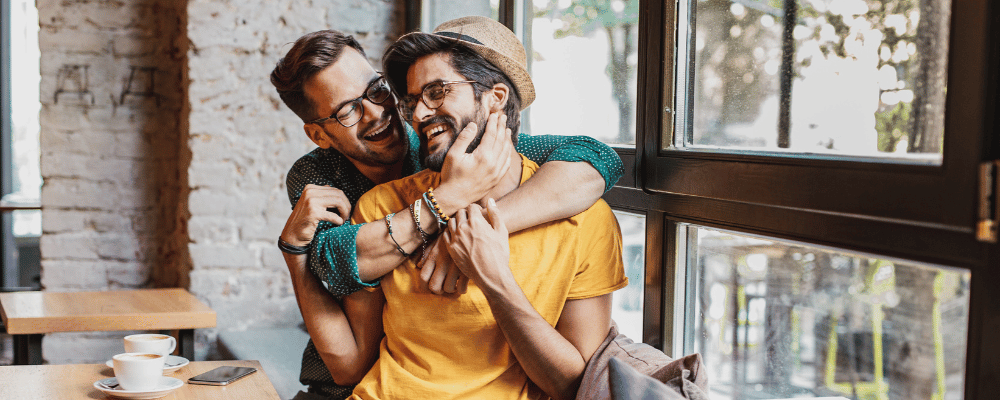 Best Gay Bars in Tel Aviv
Located in the vibrant Florentine neighborhood, Shpagat is a must-visit gay bar in Tel Aviv. The bar exudes a cool, relaxed vibe, with its bare brick walls and soft lighting, making it a perfect spot to chill after a day roaming around the city. A diverse crowd of both locals and tourists flocks here to enjoy the extensive drink and cocktail menu. Plus, Shpagat regularly hosts live music and themed parties.
LAYLA stands out in the LGBTQ+ nightlife scene of Tel Aviv. Nestled on bustling Yavne Street 31, this bar is famous for its unique cocktails, night kitchen, and dance floor. The bar's lively atmosphere embodies Tel Aviv's inclusive culture. Whether sipping on creative cocktails, enjoying late-night kitchen offerings, or dancing the night away, LAYLA ensures a night to remember. It regularly attracts a mixed crowd and hosts exciting events, including live DJ sets and themed dance parties.
In the eclectic neighborhood of Neve Tzedek, Lima Lima is another gem in Tel Aviv's LGBTQ+ nightlife. Known for its dance nights filled with a blend of pop, electronic, and world beats, it invites everyone to get lost in the rhythm. Its vibrant atmosphere and diverse crowd embody the inclusive nightlife that Tel Aviv is known for. Alongside dance nights, Lima Lima also frequently hosts themed parties and live performances.
Tips for First-Time Visitors
Do Your Homework:

Before you step out, make sure to do some research on the specific bars or clubs you're planning to visit in Tel Aviv. Look up their websites or social media pages to get a feel for the atmosphere and see the kind of events they host. This research can help you choose a place that suits your preferences and helps you know what to expect.

Dress for the Occasion:

While many of these bars and clubs have a relaxed dress code, it's always good to check in advance. Make sure to wear comfortable footwear, especially if you plan to dance the night away. Your comfort should be a priority, ensuring you can enjoy your night out without any worries.

Arrive Early:

Especially on weekends or event nights, it's a smart idea to arrive early. This helps you avoid long queues and secure a good spot in the bar or club. Early arrival allows you to get settled, order your drinks, and relax before the place gets packed.

Be Respectful:

Remember that these venues are safe spaces for the LGBTQ+ community. Always be respectful and considerate of others. Avoid any language or behavior that might make others uncomfortable and respect people's boundaries.

Stay Hydrated:

While enjoying your night out, dancing and drinking, remember to stay hydrated. Balance out your alcohol consumption with plenty of water to keep yourself energized and prevent any next-day regrets.

Safety First:

Keep an eye on your belongings at all times and avoid leaving drinks unattended. Given the bustle of nightlife venues, it's essential to ensure the safety of your personal items. It's also wise to pre-arrange your transportation back to your accommodation to avoid the hassle of finding a ride late at night.

Interact with Locals:

Engage with the local crowd. It's a great way to make new friends, learn more about the city's culture, and get recommendations for other great places to visit in Tel Aviv.

Keep an Open Mind:

Embrace the diversity and inclusivity that Tel Aviv's nightlife has to offer. Keep an open mind, be yourself, and enjoy the vibrant atmosphere and the array of different people you will meet.

Relax and Have Fun:

Ultimately, remember to relax and have fun! Tel Aviv's gay bars and clubs are about enjoyment, expression, and connection. Let loose and let the city's vibrant energy carry you through the night.
Conclusion
Tel Aviv stands out as a beacon for the LGBTQ+ community in the Middle East, and its bustling bars and clubs echo the city's lively nightlife and rich culture. From Shpagat to Lima Lima, the best gay bars in Tel Aviv welcome a diverse crowd, promising a unique and unforgettable experience.
Planning to experience the gay nightlife in Tel Aviv? Consider staying at BY14 Hotel. Its central location offers easy access to Tel Aviv's top gay bars, clubs, and events. Don't miss out on all that Tel Aviv has to offer – book your stay at BY14 Hotel today!
More Articles:
Frequently Asked Questions
Do the gay bars in Tel Aviv host any special events or themed nights?
Yes, many gay bars in Tel Aviv frequently host special events and themed nights, including drag shows, dance parties, and LGBTQ+ community gatherings. These events often feature DJs, performers, and other entertainers, providing a vibrant and inclusive atmosphere for attendees to enjoy.
What are the operating hours for most gay bars in Tel Aviv?
The operating hours for most gay bars in Tel Aviv typically begin in the late afternoon or early evening and extend into the early morning hours, especially on weekends. It's worth noting that hours can vary significantly between venues, and some places may have special events that affect their usual operating hours, so checking in advance is always a good idea.
Which neighborhood in Tel Aviv is popularly known as the city's LGBTQ+ hub?
The neighborhood of Rothschild Boulevard in Tel Aviv is popularly known as a central area for the city's LGBTQ+ community and nightlife. Additionally, areas like Florentin have also gained popularity for their inclusive vibe.
During which month is Tel Aviv's Pride Parade typically held?
Tel Aviv's Pride Parade is typically held in June. It's one of the city's largest annual events, attracting both locals and international visitors.