Tel Aviv buzzes with energy, offering visitors everything from lively nights out to deep dives into its cultural history. However, amidst the urban sprawl, it is essential to make time for nature and green spaces. That's why we put together a list of the best Tel Aviv parks to explore during your stay at BY14 Hotel.
BY14 Hotel encapsulates the spirit and energy of Tel Aviv, offering an inviting blend of urban chic and casual comfort. Tucked away close to the heart of the city, BY14 Hotel is your perfect starting point to discover Tel Aviv's beautiful parks.  Whether you're looking for a peaceful nook to unwind or lively park spots brimming with fun, staying with us ensures you get the best outdoor memories Tel Aviv has to offer.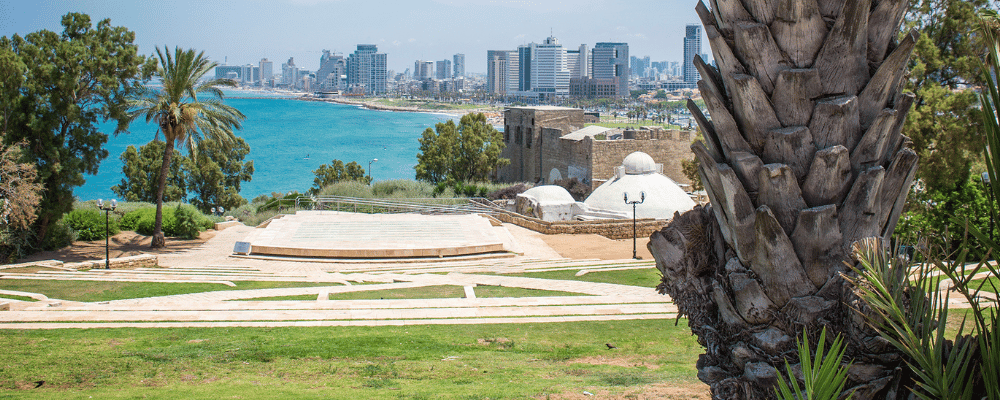 The Best Tel Aviv Parks
If you're someone who cherishes the outdoors, craves a good workout, or just needs a quiet spot to chill, Tel Aviv's parks have something for everyone. Every park has its own magic – from the vast stretches of Hayarkon Park, the history-soaked Sarona Gardens, and the buzzing Gan Meir, to the peaceful vibes of Charles Clore Park by the beach. It's a green wonderland waiting to be explored! As you venture out from the comfort of BY14 Hotel, we invite you to explore these green havens – perfect retreats amidst the city's vibrant rhythm. Here's an introduction to what each park has to offer.
Hayarkon Park
Hayarkon Park is Tel Aviv's version of Central Park, and it's hard to miss while exploring the city. Hayarkon Park, with its vast expanse of 3.5 square kilometers, is among the largest parks in Tel Aviv. The Yarkon River, a key feature, offers visitors an opportunity to rent paddle boats for a delightful experience on the water. On the riverbanks, there are well-laid bike paths, jogging trails, and designated picnic areas. It's genuinely a peaceful escape for anyone needing a break from the city's constant hustle. It is also a popular spot for music concerts and festivals, so make sure to check the park's event calendar during your stay at BY14 Hotel.
Sarona Gardens
Sarona Gardens is a restored Templar colony turned modern park in the heart of Tel Aviv. Visitors can enjoy boutique shops and eateries in restored Templar buildings or relax in the lush greenery. This park plays a vital role in the community, acting as a hub for both locals and tourists. The weekly market is a highlight and is popular among locals and tourists seeking an authentic Tel Aviv experience. Make sure to check out Sarona Gardens during your stay at BY14 Hotel for a lovely afternoon of shopping and dining.
Gan Meir
Gan Meir is a central park in Tel Aviv, located between the trendy Nachlat Binyamin pedestrian street and the famous Sheinkin street. The park strikes a lovely balance between chill spots and active areas, so it's got something for everyone, whether you're looking to relax or get moving.
There are playgrounds for kids, a skatepark for teens, and dog-friendly zones for pet owners. Gan Meir is also essential for the LGBTQ+ community because of the presence of the LGBT center.  We highly recommend a visit to Gan Meir during your stay at BY14 Hotel.
Charles Clore Park
Located by the sea, Charles Clore Park offers a mix of grassy expanses and stunning beach views. Charles Clore Park offers a lovely web of trails ideal for casual walks or some brisk biking. It's not just about the paths though; the park often hums with the energy of festivals, music shows, and even outdoor yoga sessions. If you're looking to take a break from the city's hustle and simply want to relax by the sea in a peaceful setting, this park is a dream spot.
Tips for Visitors
Stay Hydrated

: Tel Aviv can get quite hot, especially in the summer months. Always carry a water bottle with you when visiting parks to stay hydrated.

Wear Comfortable Shoes:

The parks in Tel Aviv are best explored on foot. Comfortable shoes will ensure you can walk around easily and enjoy the sights.

Check Park Timings:

Some parks have specific opening and closing hours. Check these before you plan your visit.

Respect the Environment:

Remember to pick up after yourself to keep the parks clean. This includes any litter or pet waste.

Pack a Picnic

: Most parks in Tel Aviv have lovely spots for a picnic. Pick up some local food and enjoy a meal outdoors.

Visit Local Markets:

Many parks, like Sarona Gardens, have local markets. Don't forget to check these out for a unique shopping experience.

Use Sunscreen:

Sunscreen is a must, regardless of the season, to protect your skin from sunburn.

Use Public Transportation:

Most parks in Tel Aviv are easily accessible by public transportation. Choosing this mode of travel is not only greener but often more hassle-free, especially when the roads get busy.
Conclusion
If you really want to get the full Tel Aviv experience, you've got to spend some time in its green spaces. The best Tel Aviv parks are more than just patches of grass; they're places to chill out, get close to nature, and feel the heartbeat of the local community and its culture.
During your stay at BY14 Hotel, make sure you set aside time to visit some of these beautiful outdoor spaces. Each park has its unique features and varied attractions, making them suitable for everyone. Begin your green adventure with these parks and discover your own oasis in the heart of Tel Aviv.
More Articles:
Frequently Asked Questions
Does Tel Aviv have any dog-friendly parks or areas where pets are allowed?
Yes, Tel Aviv is a notably pet-friendly city with numerous parks and areas where dogs are allowed. Many parks have designated off-leash areas for dogs to play freely, and some, like Meir Park and Gan Ha'Ir Park, offer specially designed dog parks ensuring a fun and safe environment for pets and their owners.
Are there any parks in Tel Aviv that host cultural or musical events?
Yes, several parks in Tel Aviv frequently host cultural and musical events. For example, Yarkon Park, the largest green space in the city, often hosts concerts, festivals, and other large-scale events featuring both local and international artists and performers, offering a vibrant outdoor setting for various celebrations and gatherings.
What is the recommended mode of transportation for tourists visiting Sarona Gardens?
The recommended mode of transportation for tourists visiting Sarona Gardens in Tel Aviv is walking, as the area is pedestrian-friendly. Alternatively, using bicycles or the city's public transportation, such as buses, are also convenient options.
How much time should a tourist allocate for a visit to fully explore Sarona Gardens and its surroundings?
A tourist should allocate 2-3 hours to fully explore Sarona Gardens and its surroundings. This allows time to appreciate the historical buildings, visit the market, and enjoy the green spaces.