While people may not initially consider a family holiday in Tel Aviv, the city offers a lot more than what meets the eye. With its array of child-friendly venues, safe surroundings, and welcoming local culture, Tel Aviv is a destination that families can enjoy discovering together.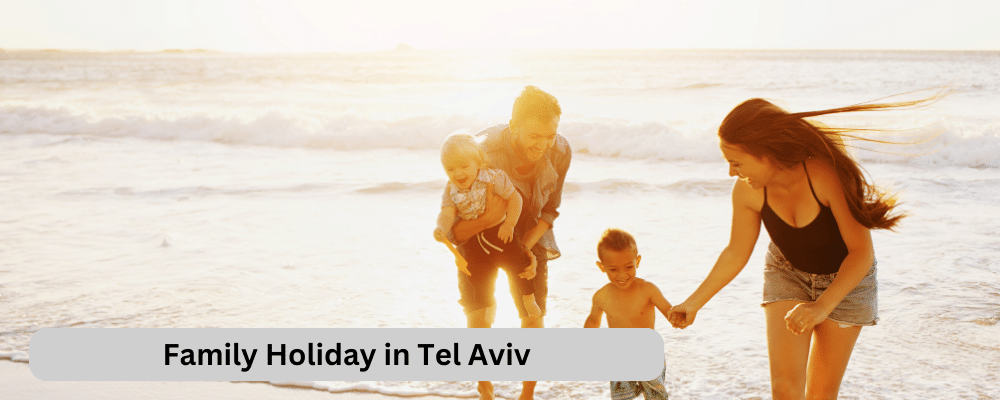 Tel Aviv is a city that truly has it all—impressive cultural landmarks, jaw-dropping architecture, and beaches you'll want to lounge on all day. Imagine a place where you can build sandcastles in the morning and explore ancient ruins in the afternoon, all while enjoying the buzz of a modern city. This delightful mix is what gives Tel Aviv its charm, ensuring every family member finds something to love.
The Appeal of A Family Holiday In Tel Aviv
Tel Aviv presents an exciting urban experience with a beach vacation, offering an array of diverse attractions for all age groups. From historical sites like the Yitzhak Rabin Center and the Palmach Museum, to outdoor activities like cycling, skating, and kayaking, everyone will find something special for themselves. Why should you pick Tel Aviv for your next family getaway? Well, for starters:
Rich Historical and Cultural Experiences: Tel Aviv is like a living history book brimming with stories and adventures. Places like the Eretz Israel Museum and the Palmach Museum aren't just buildings; they're gateways to the past that can enthrall every member of the family. 

Stunning Beaches: Tel Aviv boasts beautiful beaches such as Gordon Beach and Frishman Beach, perfect for a day of family fun in the sun. The calm waters and lifeguards ensure safety for young children.

Safe and Welcoming Environment: The city is known for its friendly locals and safe neighborhoods, providing a comfortable environment for families.

Diverse Cuisine: Families can explore a wide range of food options in Tel Aviv, from local Israeli food to international cuisine, catering to every palate.

Outdoor Parks and Recreation: Tel Aviv has numerous parks like Park Hayarkon, which not only offer green spaces for relaxation but also playgrounds and other recreational facilities for children.

Fun Learning Opportunities: Tel Aviv is home to engaging spots like the Children's Museum and the Safari Zoo where kids can both have a blast and pick up new knowledge along the way.
Top Family Attractions in Tel Aviv
Thinking of places to visit in your family holiday in Tel Aviv?  The city is brimming with spots that are both fun and enlightening:
Eretz Israel Museum: It's not just any museum. With its vast collection spanning archaeology to traditional crafts, it promises a day of discovery for folks of all ages.

Palmach Museum: It's more than walls and exhibits; it's an immersive journey. Dive into Israel's rich history through the captivating tales of the Palmach. Everyone's sure to leave with a story or two to share!

Gordon Beach: One of the most visited beaches in Tel Aviv, ideal for a day of family fun. The beach has volleyball nets, a workout area, and plenty of restaurants and cafes nearby.

Frishman Beach: A quieter beach with calm waters, ideal for families with young children. It also offers facilities like showers and dressing rooms.

Park Hayarkon: Tel Aviv's largest park, providing a green oasis within the city. It has picnic areas, playgrounds, a zoo, and a large lake where you can rent pedal boats.

Children's Museum: This museum offers interactive exhibits that promote learning through play. 

Safari Zoo Ramat Gan: Located near Tel Aviv, this is the largest collection of wildlife in human care in the Middle East, an ideal spot for a family day out.
Practical Tips for Families Traveling to Tel Aviv
Plan Ahead:

Research and plan your itinerary ahead of time. Make note of the opening hours and days for attractions, and book tickets in advance if possible.

Public Transport:

Tel Aviv has a reliable public transportation system. Consider purchasing a Rav-Kav card for easy travel around the city.

Food:

Eating out can be expensive in Tel Aviv. With kids in tow, consider self-catering options or eating at local markets for a more budget-friendly option.

Water and Sunscreen

: Tel Aviv can be hot, especially in summer. Always carry water for hydration and sunscreen to protect against sunburn.

Accommodation:

Look for family-friendly accommodations that offer amenities like kitchenettes, cribs, and proximity to public transportation.

Shabbat:

Keep in mind that most places close from Friday evening to Saturday evening for Shabbat. Plan accordingly.

Local Sim Card:

Consider getting a local sim card for your stay. It can be handy for internet access, especially for navigation or emergency situations.

Culture

: Teach your children a bit about the local culture and customs before you go. This can make the trip more interesting and respectful.
Choosing the Right Stay
Situated at 14 Ben Yehuda Street, this hotel is practically a stone's throw away from the sea and the lively promenade—a mere 5-minute walk! It's a real gem for families who want to be right in the heart of things .And it's not just about location; the hotel offers its guests plenty of comfortable amenities,  including a lobby lounge, a wellness center, and a restaurant serving delicious breakfast. The friendly staff at the hotel will make your stay even more pleasant.
The BY14 Hotel doesn't just have a gym; it's got a fitness oasis decked out with the latest gear, ensuring your workout routine doesn't miss a beat, even on vacation. And if breaking a sweat isn't on your agenda? Dive into relaxation in the hotel's soothing sauna. The hotel's serene vibe offers a perfect escape for families eager to retreat from the city's energetic pulse.
To wrap things up, Tel Aviv might just be the underrated family vacation spot you've been missing. With its myriad of attractions, warm-hearted locals, and delightful spots that kids will adore, the city is a treasure trove of memories waiting to be made for both young and old.
When choosing accommodations in Tel Aviv, BY14 TLV Hotel stands out as a family-friendly option that offers a range of amenities and is centrally located for convenience.  So start planning your ideal family holiday in Tel Aviv today. 
Frequently Asked Questions
Are there any family-friendly festivals or events in Tel Aviv throughout the year?
Yes, Tel Aviv hosts several family-friendly festivals and events throughout the year. One notable example is the Purim Street Party, a vibrant event featuring costumes, parades, and activities for all ages.
Can you recommend a beach in Tel Aviv that's perfect for a family day out?
Gordon Beach in Tel Aviv is ideal for a family day out, offering calm waters, sun loungers, playgrounds for kids, and beachside cafes, ensuring a fun and relaxed experience for visitors of all ages.
Are there any kid-friendly parks in the city?
Yes, Tel Aviv boasts several kid-friendly parks, including Hayarkon Park, which offers expansive green spaces and playgrounds. Gan Meir Park and Dubnov Park are also popular spots with playgrounds and recreational areas for children.
Where can families find interactive museums or educational activities in Tel Aviv?
Families in Tel Aviv can explore interactive museums like the Palmach Museum and the Eretz Israel Museum, both offering engaging exhibits for all ages. Additionally, the Yitzhak Rabin Center provides educational insights into Israeli history and culture through interactive displays.