Looking for the perfect way to enjoy Tel Aviv's stunning skyline and vibrant nightlife? Delve into the magic of Tel Aviv's rooftop bars for a truly spectacular night out. These elevated havens provide sweeping views of the city and create an enchanting ambiance that's hard to beat. For anyone eager to experience the city's nightlife, these rooftop spots are an absolute must.
When it comes to embarking on a rooftop bar adventure in Tel Aviv, BY14 Hotel is the perfect starting point. Situated at 14 Ben Yehuda St., right in the bustling heart of the city, this charming boutique hotel offers unbeatable convenience, putting you right in the center of the rooftop bar action.
In this guide, we're going to delve deep into what makes rooftop bars in Tel Aviv so special. We'll spotlight some of the top venues you absolutely have to check out and provide practical tips to ensure you have the best night possible. Whether you're just visiting or a local resident eager to discover new spots, this guide has something for everyone.
The Appeal of Rooftop Bars in Tel Aviv
Rooftop bars have become a popular trend in Tel Aviv for several reasons. First, the unique ambiance of being high above the city creates a special feeling that you cannot get in any other bar.
Secondly, the sweeping views of the city's skyline create a stunning and unforgettable backdrop for your evening. Finally, there's nothing quite like spending an evening under the stars, taking in the city from above and basking in the warm breeze of Tel Aviv. It's clear to see why rooftop bars have become an essential part of the nightlife here in the city.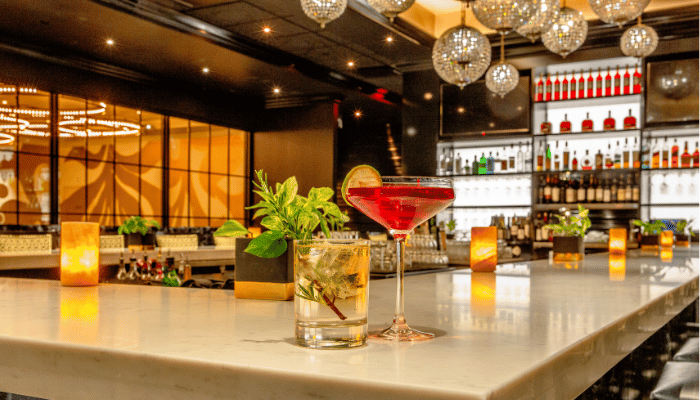 Top Rooftop Bars to Visit in Tel Aviv
Without further ado, let's dive into our curated list of the top rooftop bars in Tel Aviv. This selection is a mix of hidden gems and popular hotspots, each offering a unique experience. Whether you're looking for a chill atmosphere to relax with friends, or an upscale venue for a romantic evening, you'll find the perfect spot on this list. Enjoy the journey as we explore these must-visit rooftop bars.
Speakeasy

: Located on the iconic Rothschild Boulevard, Speakeasy boasts a stylish rooftop bar that offers an unrivaled view of the bustling boulevard below. Try their whiskey sour to elevate your experience.

Suramare:

Hosting a picturesque view of Tel Aviv's cityscape, Suramare is an adored rooftop bar known for its delicious cocktails and high-end culinary experience. Don't miss their signature 'Suramare' cocktail.

The Prince:

Situated in the trendy neighborhood of Nahalat Binyamin, The Prince is a rooftop bar with a cozy and inviting atmosphere. With expertly crafted cocktails and a menu featuring Mediterranean flavors, this is the perfect spot to relax and enjoy the city lights.

Poli House:

This chic rooftop bar, located at the top of The Poli House Hotel, is an Instagram-worthy spot with its trendy decor and panoramic views. Sip on their refreshing frozen cocktails while taking in the stunning Tel Aviv sunset.
Tips for a Stellar Night Out
Plan Ahead:

Research ahead of time to find out the operating hours of the rooftop bars you plan to visit. Some bars may not open until later in the evening, and others may require reservations, particularly on weekends.

Dress Appropriately:

While Tel Aviv has a largely casual dress code, some of the upscale rooftop bars may require a more formal outfit. In addition, the temperature drops at night, so consider bringing a light jacket.

Stay Hydrated:

Tel Aviv's warm climate, coupled with alcoholic beverages, can lead to dehydration. Ensure you're drinking plenty of water throughout the evening.

Try Local Drinks:

Many rooftop bars in Tel Aviv offer a selection of local spirits and wines. Don't miss the opportunity to try something unique to the region.

Consider Transportation:

Tel Aviv boasts a good public transportation system, and taxis are also readily available. If you plan to drink, ensure you've planned a safe way to get back to your accommodation.

Be Respectful:

Remember to respect local customs and regulations, and be considerate of others. This will ensure a more enjoyable experience for everyone.
Conclusion
From the unbeatable views to the unforgettable ambiance, a night spent on a rooftop bar is sure to be memorable. And if you're staying at BY14 Hotel, you're in the perfect position to easily access the city's rooftop bar scene.
Don't hesitate any longer! Organize your evening, invite your friends or special someone, and make your way to one of these incredible places. You're in for a memorable night beneath the Tel Aviv sky.
Frequently Asked Questions
How do the prices at rooftop bars in Tel Aviv compare to those of regular bars or restaurants in the city?
The prices at rooftop bars in Tel Aviv tend to be higher compared to regular bars or restaurants, reflecting the premium experience of enjoying drinks with a panoramic view of the city. However, the range can vary widely depending on the location, popularity, and exclusivity of the rooftop venue.
Do rooftop bars in Tel Aviv have age restrictions or dress codes that patrons should be aware of?
Yes, many rooftop bars in Tel Aviv enforce age restrictions, typically allowing only patrons who are 18 or 21 years and older. Dress codes can also be in place, with some of the more upscale venues expecting visitors to dress smartly or in business casual attire. It's advisable to check the specific bar's policy or contact them directly before planning your visit.