Tel Aviv is one of the world's most popular beach destinations and offers tourists a mix of history, culture, and lively nightlife.  For visitors who want to experience the best places to stay in Tel Aviv, BY14 TLV Hotel is one of the most elegant and comfortable options. From its elegantly designed rooms and suites to its excellent amenities and services, this hotel offers an experience more than just a regular vacation.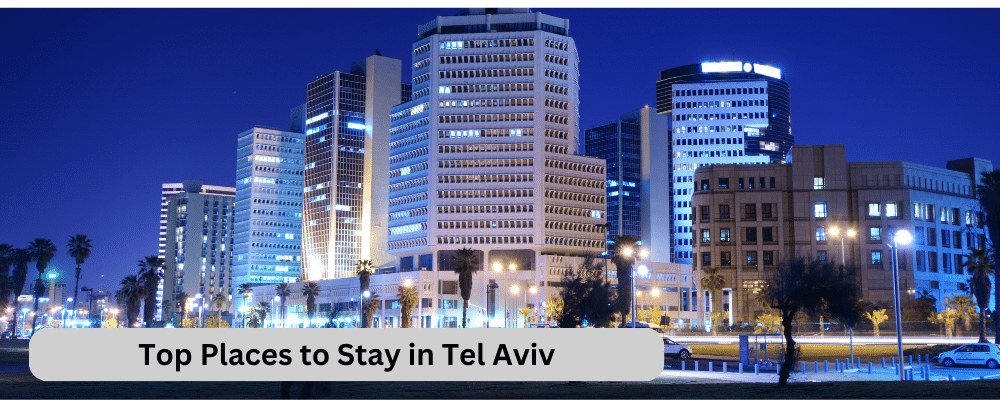 With world-class dining and entertainment options nearby, it's easy to see why BY14 Hotel is one of the top-rated places to stay in Tel Aviv. In this article, we'll take a closer look at why BY14 Hotel is the perfect home away from home for visitors to Tel Aviv. 
BY14 Hotel- The Best Place To Stay In Tel Aviv
Nestled in the heart of Tel Aviv, the BY14 Hotel stands as a beacon of refined comfort. A stroll away from the sandy beaches and local highlights, its location on a peaceful city street is ideal for travelers.
Every room, be it a standard one or a more spacious suite, boasts attention to detail and comfort. Guests can look forward to  conveniences such as air conditioning, free wifi, TV, private bathrooms, and more.
But that's not all. The hotel offers high quality facilities, from a relaxing rooftop terrace and spa to a fitness gym and an in-house restaurant. Here, you can try out Israeli dishes complemented by choice wines.
Importance of Location and Accessibility
Its central position is one of BY14 Hotel's shining points. Key attractions like the Carmel Market, the Tel Aviv Museum of Art, and the picturesque Meir Garden are just a walk away.
Getting around is also hassle-free, thanks to the nearby central bus station and light rail system. And for those beach days? The Mediterranean's soothing waves are just around the corner.
What Makes BY14 Stand Out?
BY14 Hotel is a premium hotel that provides guests with exceptional levels of comfort, service, and convenience. From its modern style to its numerous amenities and services, the hotel offers an unforgettable experience for travelers looking for the best places to stay in Tel Aviv:
Prime Location:

BY14 Hotel is located in the heart of Tel Aviv. This makes it an ideal place to explore the city's major attractions, including the Carmel Market, the Tel Aviv Museum of Art, and Meir Garden. 

Top Accommodations:

The hotel offers a range of quality rooms and suites, all decorated to the highest standards and equipped with top-notch amenities such as air conditioning, free wifi, flat-screen TVs, and private bathrooms. 

Excellent Amenities and Services:

Beyond the rooms, the hotel provides an array of amenities such as a rooftop terrace, a spa, a gym, and a restaurant serving delicious Israeli cuisine paired with the finest local wines. 

Accessibility:

The hotel's proximity to public transportation, including the central bus station and light rail system, makes it easy for guests to move around the city. 

Beach Proximity:

The Mediterranean beaches are just a few minutes' walk away, offering guests the chance to relax and enjoy the sun and sea.

Boutique Experience:

As a boutique hotel in Tel Aviv, BY14 Hotel offers a more personalized, intimate experience, compared to larger commercial or business hotels. Guests are given more attention and can enjoy a unique, stylish atmosphere
Helpful Tips for Booking and Reservations 
Research Early:

Start your hotel search a few months before your trip and compare prices across different booking platforms.

Read Reviews:

Prioritize recent reviews to get a sense of the current guest experience. Also look for patterns in reviews; repeated concerns might be red flags.

Sign Up for Alerts:

Use price alert tools to notify you of rate drops. Consider joining hotel loyalty programs for special deals.

Avoid Peak Times:

Understand the destination's peak tourist seasons to avoid higher rates. Consider traveling during shoulder seasons for better deals and fewer crowds.

Direct Booking:

Sometimes booking directly with the hotel can yield special offers or perks. Direct communication can make it easier to request specific room preferences.

Be Flexible with Dates:

If possible, adjust your travel dates by a day or two to get better rates. Hotels often have better rates during weekdays compared to weekends.

Understand Cancellation Policies

: Always read the fine print to know the cancellation time frame. Look for hotels that offer free cancellation for maximum flexibility.

Ask About Special Deals

: Contact hotels in Tel Aviv to inquire about any ongoing promotions. Look for hotel deals in Tel Aviv that might include meals, spa treatments, or local activities.
Conclusion:
BY14 Hotel delivers an experience that both business and leisure travelers will appreciate. From its prime location, unique features, and personalized service, it's no wonder why this hotel is becoming the nicest hotel in Tel Aviv. Whether you're a Tel Aviv first-timer or a repeat visitor, you can enjoy the best of the city in comfort and style at BY14 Hotel. Start planning your unforgettable Tel Aviv experience today!
Frequently Asked Questions
Are there any signature events or festivals in Tel Aviv's nightlife scene?
Yes, Tel Aviv is renowned for its annual White Night (Laila Lavan) festival, where the city comes alive with all-night events, music, and performances. Additionally, the city's Pride Week is a significant event, featuring vibrant parties and a massive parade, celebrating the LGBTQ+ community. Both events highlight Tel Aviv's dynamic nightlife and inclusive spirit.
How safe is it to explore Tel Aviv at night?
Tel Aviv is generally safe for nighttime exploration, with vibrant nightlife and many areas bustling well into the early hours. However, as with any major city, it's advisable to stay vigilant, avoid isolated areas, and be aware of one's surroundings to ensure personal safety. Always follow local advice and travel recommendations.
You might also be interested in: