Tel Aviv is a fascinating destination for travelers who are looking for a mix of culture, nightlife, and beautiful beaches. The city attracts tourists from all over the world for its stunning architecture, world-renowned restaurants, and the vibrant atmosphere of its markets and shopping districts. 
Are you looking for the nicest hotel in Tel Aviv for your vacation? Look no further than the BY14  Hotel. Located in the heart of the city, this 4-star hotel provides a unique experience for its guests. The BY14 Hotel offers a range of modern amenities, including gym and sauna, lobby-lounge and communal workspace, as well as an excellent restaurant for a fulfilling breakfast.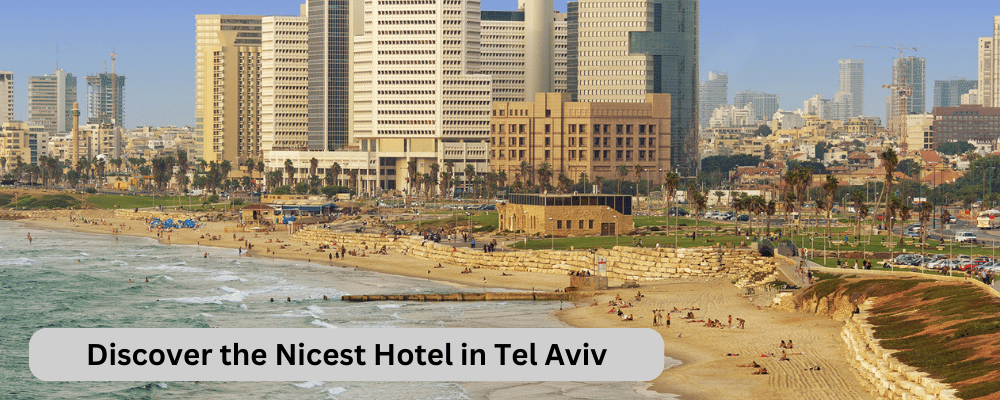 The BY14 Tel Aviv Hotel is perfect for travelers who want the best of both worlds: a comfortable and relaxing place to stay and easy access to all of the city's attractions. In this article  we'll explore what makes the BY14 Hotel special and why it's a great choice for your next Tel Aviv vacation. 
Prime Location and Seamless Travel
One of the strongest suits of the BY14 Hotel is its unbeatable location. Here's a little taste of what's a stone's throw away:
Rabin Square:

Named in honor of Yitzhak Rabin, the Israeli Prime Minister who was assassinated there in 1995, the square stands as a poignant symbol of democracy and peace.

Dizengoff Street:

Think of it as Tel Aviv's entertainment backbone. From boutique shops to coffee-scented cafes and late-night bars, it embodies the city's vibrant spirit.

Tel Aviv Port Area:

It's where the city meets the sea. Brimming with restaurants, lively bars, and dance spots, it's a haven for those looking to experience the city's modern side.

Habima Square: Habima Square in Tel Aviv is home to the famous Habima National Theatre. It's a popular place for people to hang out, blending artsy vibes with green spaces.
Carmel Market:

Carmel Market in Tel Aviv is a bustling marketplace filled with vibrant stalls offering fresh produce, local delicacies, and unique crafts.

The Museum of Art:

The Tel Aviv Museum of Art is a leading cultural institution showcasing a diverse collection of Israeli and international artworks. Its striking architecture and exhibits, spanning from classic to contemporary, make it a must-visit for art enthusiasts and curious visitors alike.
But that's not all. The city's efficient transport system orbits around the hotel, ensuring that whether by bus, car, or even a leisurely walk, Tel Aviv's wonders are always within reach.
What Makes BY14 Hotel On Of The Nicest Hotels in Tel Aviv:
One of the reasons why the BY14 Hotel is one of the nicest hotels in Tel Aviv is its focus on personalized hospitality.  From the moment you arrive at the hotel, you can expect to receive warm and friendly service from the staff.  The hotel's team of experienced professionals will go above and beyond to ensure that you have a comfortable and enjoyable stay.
Tel Aviv's reputation as an LGBTQ+ friendly destination continues to grow, and By14 Hotel is proud to be a part of this inclusive community. The hotel welcomes all individuals and couples, regardless of gender or orientation, and offers a safe and accepting environment for everyone to enjoy their time in Tel Aviv.
One big bonus? The beach! It's close, so you can easily head there for sun, sea, and sports. And nothing beats watching the sun dip into the Mediterranean Sea after a day out. The BY14  Hotel's close proximity to the beach is a major advantage for guests who crave the sun, sand, and sea. Located within walking distance, the beach provides an exceptional spot for relaxation and recreation. 
During the day, you can engage in various seaside activities such as sunbathing, swimming, or beach volleyball. As the day ends, prepare for a breathtaking spectacle as the sun sets on the horizon. This accessibility to the beachfront not only enhances the vacation experience but also offers guests the unique opportunity to immerse themselves in the coastal charm of Tel Aviv.
List of The Best Tel Aviv Attractions
Staying at BY14 Hotel positions you perfectly to uncover more of Tel Aviv:
Yitzhak Rabin Center:

Beyond a museum, it's a tribute, unraveling the layers of Israel's ex-leader and the nation's intricate politics.

Eretz Israel Museum:

Spread across multiple pavilions, this museum is like a time capsule, narrating Israel's multifaceted history, culture, and even archaeology.

Palmach Museum:

It's an immersive experience, shedding light on the heroic Palmach group and their contribution during tumultuous times.

Neve Tzedek:

Known for its historical architecture, bohemian atmosphere, and a myriad of art galleries, boutiques, and restaurants, the neighborhood provides a picturesque contrast to the city's modern skyline.

Jaffa's Old City and Port:

The port, once a key trading hub, remains active today and is surrounded by a lively blend of fish restaurants, art galleries, and artisan shops.

Rothschild Boulevard:

As both a commercial and recreational hub, the boulevard is dotted with cafes, restaurants, galleries, and historical landmarks. 

The White City:

The White City of Tel Aviv is renowned for its outstanding collection of Bauhaus and International Style buildings, earning it a UNESCO World Heritage Site designation in 2003.
Conclusion
The BY14 Hotel is the perfect place to stay during your Tel Aviv vacation. With its central location, stunning views, and commitment to personalized hospitality, it's no wonder why it's considered one of the nicest hotels in Tel Aviv. If you're heading to Tel Aviv, the BY14 Hotel offers a blend of comfort, prime location, and friendly vibes. Don't miss out; give it a go and dive into all that Tel Aviv offers.
Frequently Asked Questions
What are the average temperatures in Tel Aviv during summer and winter?
In Tel Aviv, summer temperatures typically range between 24°C (75°F) to 32°C (90°F), while winter temperatures fluctuate between 10°C (50°F) and 18°C (64°F). Summers are hot and humid, while winters are mild and a bit rainy.
Which attractions in Tel Aviv are family-friendly?
Many attractions in Tel Aviv are family-friendly, including the Palmach Museum, Hayarkon Park with its vast green spaces and playgrounds, and the Eretz Israel Museum with interactive exhibits. Additionally, the city's beaches are always a hit with families for relaxation and water activities
How important is the hotel's proximity to Tel Aviv's major attractions and beaches?
The hotel's proximity to Tel Aviv's major attractions and beaches is crucial for travelers seeking convenience and a vibrant city experience. Being close to these sites allows guests to maximize their visit and reduce transportation hassles.
How do hotel prices in Tel Aviv vary by season?
Hotel prices in Tel Aviv tend to be higher during peak tourist seasons, such as summer and major Jewish holidays. Conversely, during the off-peak winter months and other times, rates can be more affordable. Factors like festivals, events, and regional situations also influence price fluctuations.
You might also be interested in: