BY14 Hotel, A Place to stay in Tel Aviv. 
Travelers from all over the world book vacations in Tel Aviv, which is well-known for its warm beaches, vibrant nightlife, and rich cultural legacy. Choosing the ideal place to stay in Tel Aviv is crucial because there is so much to see and do in this energetic city. Every traveler can find something in Tel Aviv, whether they're looking for luxury, affordability, or a unique and unforgettable middle eastern experience.
Tel Aviv is home to a number of cutting-edge start-ups and international enterprises as a hub of the technology and innovation sector. These companies are attracted to the city because of its highly educated and technologically sophisticated workforce, as well as because of its thriving entrepreneurial ecosystem. Any business traveler should take a trip to Tel Aviv, whether they're looking to network, attend a conference, or look for investment prospects.
If you have a business trip to Tel Aviv planned any time soon, BY14 Business hotel is just the right place to stay in Tel Aviv.
All About the BY14 Business Hotel in Tel Aviv
For those that have a business trip coming up and want to experience Tel Aviv's culture, BY14 is the best option. In a prime location in Tel Aviv on 14 Ben Yehuda Street, this freshly renovated hotel boasts a chic and contemporary style. Top restaurants, the beach and promenade, and all of Tel Aviv's must-see sights are all within a 5-minute stroll. It's definitely the best place to stay in Tel Aviv. 
At the end of a long day, unwind in style at the BY14 Hotel. You will receive first-rate hospitality here. Relax in a serene lounge area while enjoying coffee and tea, quick Wi-Fi access, or work off some energy at the hotel gym or sauna. Indulge in a delectable lunch at the hotel's restaurant, which is renowned for serving the best breakfasts in the area.
Our Hotel's Services and Facilities
Lobby lounge and communal workspace – The lobby-lounge and communal workspace at BY14 Tel Aviv offer stylish areas for relaxed work, successful meetings, the finest coffee and relaxing background music for your enjoyment. The players are ecstatic! We have several different games, including dominoes, chess, cards, Rummikub and more.

Breakfast in Tel Aviv at the BY14 Hotel – Have breakfast in the hotel restaurant to start the day in Tel Aviv. A fresh vegetable salad, antipasti, a variety of fresh bread, dips, and spreads, scrumptious omelets created to order by our in-house chef, refreshing beverages, mouthwatering cakes, premium coffee and tea, and refreshing beverages are all included in our table service breakfast.

Gym & Sauna – If you are looking for a place to stay in Tel Aviv with a gym and a sauna, the BY14 hotel is just for you. For those who never skip a workout, we commend you! Visit our fully equipped gym with top-of-the-line, professional equipment including bikes, treadmills and weights. After your workout, step out onto the adjacent terrace, gaze upon the captivating views, and unwind in the sauna. Close your eyes and immerse yourself in ultimate relaxation.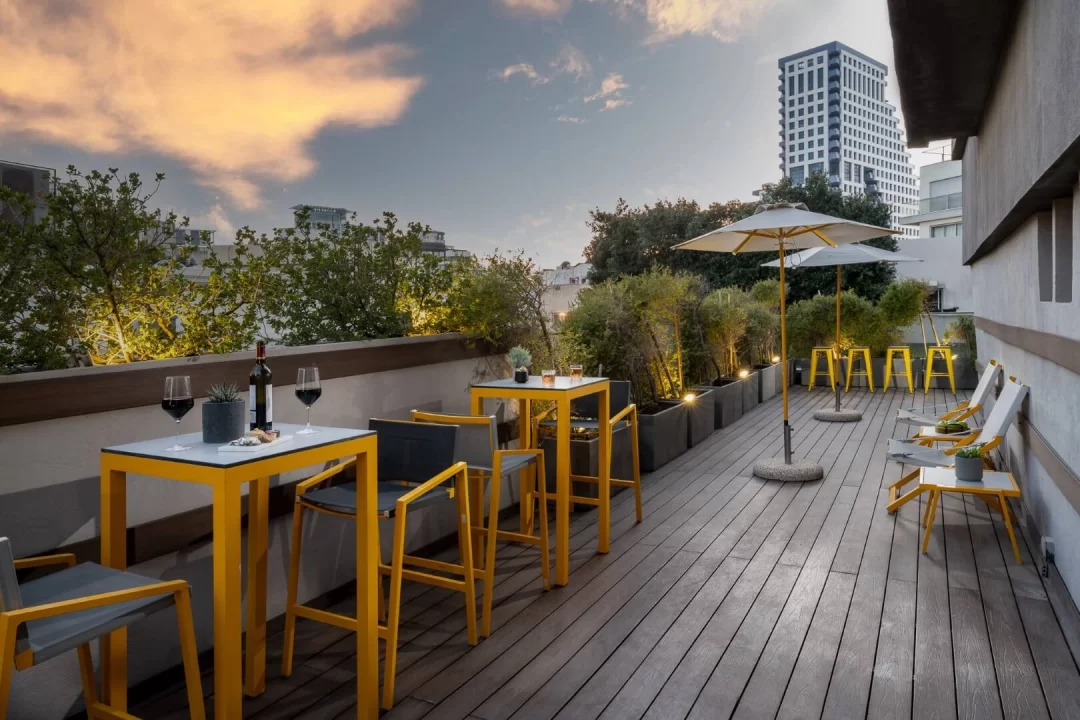 Business Trips in Tel Aviv
Business Meetings in Tel Aviv
Tel Aviv is a central hub for trade and innovation, making it a fantastic location for business meetings. You'll discover a lot of opportunities to network and expand your business ventures, whether you're in town to attend a conference, host a meeting, or look into new business prospects and opportunities. Numerous co-working spaces, conference facilities, events and conferences that serve a variety of businesses are all located in the city.
A hub of culture
Tel Aviv is a hub of culture in addition to offering business opportunities. The city is renowned for its rich artistic past, which includes a strong music and dance scene, various museums and a vivacious nightlife. There are numerous places to shop and eat, from the Carmel Market to the Jaffa Flea Market. From traditional Israeli delicacies to the newest culinary trends, Tel Aviv's eclectic food scene offers a vast selection of foreign cuisine.
There are plenty of things to do in Tel Aviv when you're not working. The city is home to a thriving arts scene, mouthwatering cuisine, and an abundance of shopping, entertainment, and adventure possibilities.
If you're in Tel Aviv for business or pleasure, you'll find that it's a vibrant and interesting city that has something to offer everyone. Tel Aviv is the perfect place to go on business because of its dynamic economy and creative attitude. Tel Aviv is a place you won't soon forget, from the BY14 Hotel's convenient and pleasant rooms to the city's numerous historical and cultural landmarks. You will undoubtedly have a memorable trip whether you are visiting for business, leisure, or in order to enjoy the rich local culture.
FAQ's
Can the rooftop be used at any time?
No. There are set hours to use the rooftop.
Is the BY14 hotel suitable for families?
Yes. We have rooms that are bigger and have sofa beds.
Is the food at the hotel restaurant kosher?
No. We don't have a kosher certificate.
Is the hotel gay-friendly?
Yes. We support the LGBTQ community. Part of our staff are a part of the community and we have many guests during the Pride Parade that takes place in June.