Discover the authentic flavor of this exotic and cosmopolitan oceanside city at the By14 Hotel, the best boutique hotel in Tel Aviv. Enjoy five-star luxury with elegant, stylish interiors that create a warm and tranquil environment. Savor legendary Israeli breakfasts to start the day with space to relax in the lobby-lounge or secret terrace with panoramic views. There is a gym and sauna for those who want to work out and free Wi-fi for business travelers. The By14 is unique amongst Tel Aviv hotels for its amenities, style and discreet service. Whether you are planning a vacation in Tel Aviv, are on business or looking for a Tel Aviv extended stay hotel, the By14 offers a tranquil haven with easy access to the city and the beach.
Tel Aviv offers varied holiday options to suit all kinds of visitors. Whether you want a city break, beach vacation, or you are here on business, a Tel Aviv boutique hotel is the perfect complement to your stay. A compact city which is easy to navigate, Tel Aviv offers a diverse blend of color and excitement, heritage and culture with world-class retail options, international cuisine, museums and art galleries, not forgetting ten glorious miles of pristine golden sand adjoining the Mediterranean.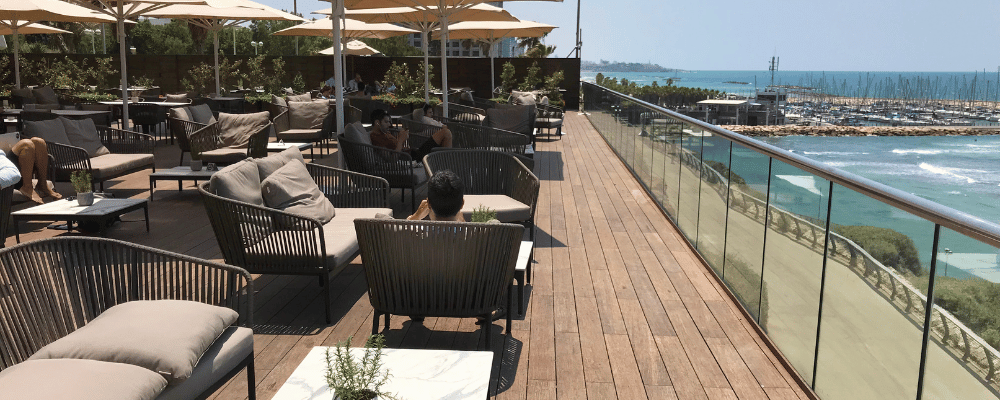 A boutique hotel in Tel Aviv blends with your stay whether you want full-on five-star luxury or just a chic base to explore this wonderful city. Mix designer interiors with a tranquil environment, personal service and a home-from-home feeling that will allow you to experience the true flavor of this fascinating city.
Find out how to choose the best Tel Aviv boutique hotel for your holiday.
The Advantages of a Boutique Hotel in Tel Aviv
A Tel Aviv boutique hotel offers an ideal base to sample the delights of the city, whether your priority is a beach hotel in Tel Aviv or your focus is on the urban delights. Finding the best Tel Aviv boutique hotel will turn a good holiday into a fabulous one.
Boutique hotels in Tel Aviv are smaller and more personal. Interiors are unique and individual, furnished and decorated to reflect the color and vibe of this cosmopolitan city. The perfect adjunct to any holiday or business itinerary, enjoy all the amenities of a larger Tel Aviv hotel without any of the drawbacks. Here are some of the key features you can expect from a Tel Aviv boutique hotel.
 

Relax in stylish and elegant rooms featuring décor which is a taste of Israel

 

Refresh your soul with gentle sea breezes and stunning views of the Mediterranean coastline from your Tel Aviv beach hotel, with balconied bedrooms overlooking the ocean and rooftop terraces to make the most of this spectacular location

 

Dine on international cuisine and try Kosher menus and local Israeli dishes

 

Rejuvenate mind and body with Tel Aviv's legendary spa and pamper treatments – many Tel Aviv boutique hotels offer wellness packages for their guests

 

Pick an oceanside location or immerse yourself in the heart of the city. Whichever Tel Aviv hotel you choose, you will always be within easy reach of the sea and all the main attractions

 

Enjoy warm, personal service that is attentive and will make your stay even more special

 

Stay in Tel Aviv boutique hotels that make the most of the history and architecture of this fascinating city with classic conversions that echo Israeli heritage

 

Inspired by the color and style of your hotel, indulge in shopping expeditions in Tel Aviv's exceptional retail outlets with high-end shops and designer boutiques
The By14, the Best Boutique Hotel in Tel Aviv
For the best boutique hotel in Tel Aviv, look no further than the By14. Here is just a taster of what you can expect from this leading Tel Aviv hotel.
 

Elegant, designer-styled accommodation and communal areas

 

Choose from a selection of luxury rooms with views over the sea and the city

 

Enjoy free Wi-fi in your room and around the hotel for business and leisure travelers

 

It's just a short stroll to the beach and all of Tel Aviv's main attractions

 

Relax in the stylish lobby lounge with popular playlists, non-stop coffee and relaxing games – this area also doubles as a functional  workspace

 

Chill out or socialize on the secret terrace with panoramic views of the city and ocean

 

Keep fit addicts can enjoy the gym and sauna

 

Start the day with a legendary Israeli breakfast By14 style

 

Enjoy a peaceful ambience and tranquil atmosphere

 

Service is 24/7 and attentive without being intrusive
Whether you're looking for a beach hotel in Tel Aviv or a city break, the By14 offers the perfect base, with unique and distinctive interiors to complement your stay. The amenities cater for all tastes, so you can use the hotel as a crash pad or treat it like a home from home. Ideally located for the seaside and all the city attractions, book the best boutique hotel in Tel Aviv, the By14, for an authentic slice of Israeli life.
Frequently Asked Questions
Why are boutique hotels amongst the best hotels in Tel Aviv?
Boutique hotels offer a more individual experience, with bespoke décor, comfort, convenience, and a more intimate ambience than some larger commercial hotels. There is attention to detail which is reflected in the architecture, the interiors and the personal service. Boutique hotels are the ideal complement for all kinds of Tel Aviv vacations and trips.
Are there boutique hotels all across the city, or are they just in specific areas?
There are boutique hotels throughout Tel Aviv and oceanside. Each hotel is unique, some are modern and purpose-built, and others are fascinating conversions. Each hotel has its own character. It doesn't actually matter where the hotel is located as this city is compact and easy to get around, and you are always within reach of the sea.
What kind of extras do the best boutique hotels in Tel Aviv offer?
Look out for free bikes for guests, an expert concierge service, handwoven Turkish linen bed sheets, custom furniture, individually designed rooms and hand-crafted products, including soaps, scents and wine.
Is there public transport in Tel Aviv on Shabat Day?
Shabat Day is the Sabbath in Tel Aviv, and there is no public transport. However, if your Tel Aviv hotel doesn't provide bikes for guests, there is a public bike service with many hubs around the city. The taxi service also operates in Tel Aviv on Shabat Day.